About Us
The mission of the Moran Public Library is to serve our community by assembling a wide assortment of reading, audio, and video materials; by providing computer access; by keeping an attractive facility; and by providing educational and recreational programs for all ages. 
Board of Trustees & Meetings
Board Meetings held the second Wednesday of each month at 6:30 pm.
(Dates and times are subject to change)
All board meetings are open to community members.
Call (620) 237-4334 to confirm dates and times.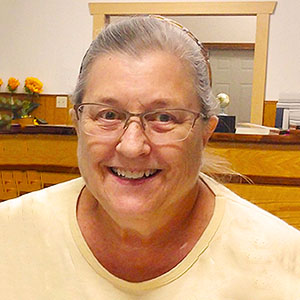 Cynthia (Cindy) Chalker
Library Director
Policies
Books and Audiobooks
Items may be checked out for 2 weeks, and renewed if  requested.
Books may be renewed over the phone! Call (620) 237-4334.
DVDs
Must be returned in one week.
Three may be checked out at one time, by patrons 14 years and older.  After 6 weeks of returning DVDs on time and in excellent condition, patrons my borrow 5 DVDs at a time.
Overdues: $1.00 per day per item.
Until resolved, failure to return items, pay fines or pay for items lost or damaged will result in the loss of library privileges with all regional systems of cooperating libraries.
Computers and WiFi
Computers with internet connection are available.
WiFi for personal devices is available.
More detailed policy information provided upon request.
Moran Public Library
P.O.Box 186 (mailing address)
308 N. Spruce St.
Moran, Kansas 66755
► Library Hours
Tuesday: 2:00 - 4
Thursday: 4:30 - 6:30

► Phone